Get ready to experience the excitement of Funky Time, a thrilling game show and a unique twist on the popular money wheel concept. Spin the large 64-segment vertical wheel, expertly operated by the game presenter, and anticipate where it will come to a stop. Each spin brings the thrill of random multipliers assigned to different wheel segments.
Your goal is to predict the winning segment and secure fantastic rewards. But that's not all! Funky Time takes it up a notch with amazing Bonus games like Bar, Stayin' Alive, Disco, and VIP Disco. Place your bets on these bonus features and get ready to groove to the funky beats! It's time to embrace the funkiness and enjoy the ultimate gaming experience.
Game Rules
Main Game
Take your chance and make a bet on the segment where you predict the wheel will come to rest. There are multiple options available for your wager. You can choose the regular bet spots such as the Number 1, which appears multiple times around the wheel, or any of the 12 letters from the words PLAY, FUNK, and TIME. Additionally, you can also place your bets on the exciting Bonus game bet spots like Bar, Stayin' Alive, Disco, and VIP Disco. It's time to make your move and go for the win!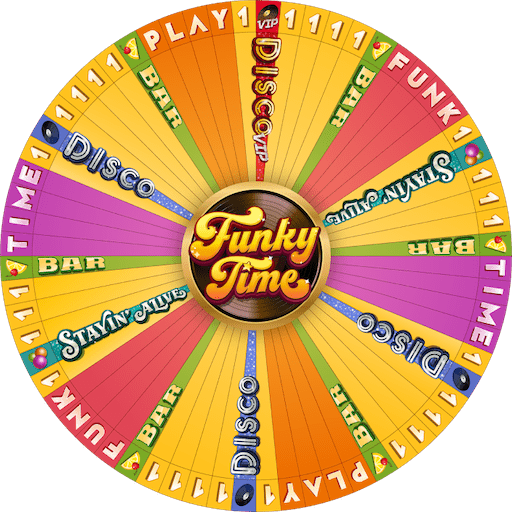 Once the betting period concludes, the game presenter initiates the spin of the Funky Time wheel. Simultaneously, random multipliers are generated and applied to different segments of the wheel.
When the wheel comes to a halt, the flapper positioned at the top of the wheel indicates the winning segment. If the wheel stops at one of the segments you placed your bet on, congratulations, you're a winner!
In the main game, if the wheel stops at a segment with a multiplier, the payout for the respective bet spot will be multiplied accordingly:
For regular bet spots, the specific bet spot's payout will be multiplied by the multiplier from the wheel segment. For example, if a 20x multiplier lands on the Number 1 wheel segment, which typically has a default payout of 1:1, the payout will now be an impressive 20:1.
For Bonus game bet spots, the multiplier from the wheel segment will be applied to create a funky Bonus game experience.
While all players can enjoy watching the thrilling Bonus games, only those who placed their bet on the corresponding Bonus game bet spot can actively participate and have a chance to win in these Bonus games. Get ready for an electrifying gaming adventure!
Bonus Games
When the wheel comes to a halt on a Bonus segment, an exciting Bonus game awaits. The specific Bonus segment determines which game players can participate in: Bar, Stayin' Alive, Disco, or VIP Disco. Get ready to immerse yourself in these captivating Bonus games and multiply your excitement!
Bar
Get ready to embark on an exciting adventure to the bar in this engaging Bonus game! Your task is to select one of the three unique beverage glasses displayed on the counter. It's important to make your decision within the allocated time, as any interruptions will result in a random glass being chosen for you. So, take your time, consider your options, and enjoy the thrill of the game!
MAKE YOUR DECISION
Once the decision time is over, get ready for a delightful moment as the bartender pours drinks and reveals the initial multipliers inside each glass. Each glass holds a random initial multiplier value ranging from 2x to 20x. But that's not all! The excitement builds as one of the three glasses receives an extra multiplier garnish. This additional multiplier will multiply the initial multiplier for that specific glass. The extra multiplier value can range from 2x to 5x, creating even bigger opportunities for winnings! For instance, if the initial multiplier in a glass is 5x and it receives a garnish multiplier of 5x, the total multiplier value for that glass skyrockets to an impressive 25x. Get ready for a multiplier-packed adventure!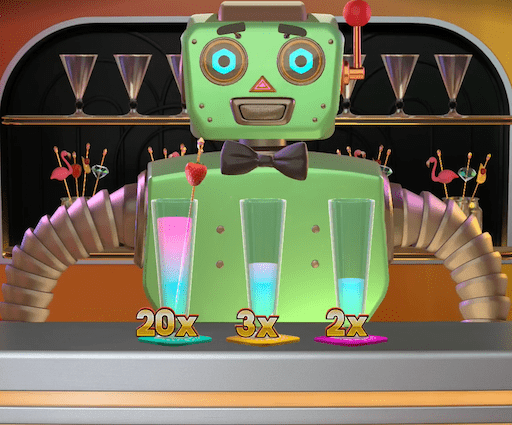 If the Bar wheel segment contains a multiplier, it will multiply the multiplier values in all three glasses before the game comes to an end. This means even more exciting potential for multiplied winnings!
Stayin' Alive
Get ready for an exhilarating Bonus game that showcases a ball drawing machine filled with 90 balls and a progressive multiplier pay table. As you climb up the levels, your winnings will soar to new heights!
The multiplier pay table is structured with different levels, each containing a range of multipliers. Starting from the lowest values at the bottom, you'll work your way up to the most lucrative multipliers at the top. Here's a breakdown of the multiplier levels:
| Level | Multiplier |
| --- | --- |
| 20 | 1000x |
| 19 | 800x |
| 18 | 700x |
| 17 | 600x |
| 16 | 500x |
| 15 | 300x |
| 14 | 250x |
| 13 | 200x |
| 12 | 150x |
| 11 | 100x |
| 10 | 70x |
| 9 | 60x |
| 8 | 50x |
| 7 | 40x |
| 6 | 30x |
| 5 | 25x |
| 4 | 20x |
| 3 | 15x |
| 2 | 10x |
| 1 | 5x |
If a multiplier was applied to this segment during the spin, each level of the multiplier pay table gets multiplied by the value of the collected multiplier, maximizing your potential winnings.
Now, let's talk about the game's limits. The bonus game reaches its peak with a fantastic 10,000x multiplier. If any multiplier level surpasses 10,000x after factoring in the wheel multiplier, it gets replaced with a generous 10,000x multiplier.
When you first start playing, you'll find yourself on the lowest multiplier pay table level, which begins at 5x. You'll also have four lives on your lives counter, giving you multiple chances to keep progressing.
During the game, you'll come across three different types of balls:
STOP ball (black): If this ball appears, unfortunately, all players lose a life from their lives counter, but they remain on the same multiplier level as before.
1-step ball: If you've chosen this color and this ball shows up, congratulations! You'll advance one level on the multiplier pay table, bringing you closer to bigger rewards.
2-step ball: For those who've picked this color, landing on the 2-step ball means you get to leap ahead by two levels on the multiplier pay table. It's a significant boost towards reaching higher multipliers.
Before the ball drawing begins, you'll need to make an important decision. Choose one of the three teams, each represented by a different color. Your chosen team's color will correspond to a ball color in the drawing machine. In case you're unable to make a decision during the allotted time or any interruption occurs, don't worry—a random decision will be made for you.
MAKE YOUR DECISION
Once you've made your choice, it's time to get the ball rolling! The game presenter pulls the lever, and the drawing process begins. Keep your fingers crossed as the machine starts revealing the balls.
If the machine draws a ball in the color of your chosen team, it's your lucky day! You'll move up the multiplier levels, either one or two positions, depending on the type of ball drawn. This means you're making progress towards bigger and better multipliers.
However, there's a twist to keep things exciting. If a black ball is drawn, don't worry too much. While you won't move up the multiplier levels, you'll stay in the same spot as before. Just keep in mind that one life from your life counter will be deducted. So, make every ball count and aim for those colorful ones to boost your chances of climbing the multiplier ladder.
Disco & VIP Disco
Get ready for a thrilling dance adventure packed with incredible winnings in these amazing Bonus games. Join Mr. Funky on the dance floor as he grooves his way to collect a fresh multiplier with each move. Disco unfolds on a 37-square dance floor, while VIP Disco takes it up a notch on a larger 63-square dance floor. Let's dance our way to big rewards!
Disco bonus game dance floor
VIP Disco bonus game dance floor
Join Mr. Funky in the heart of the dance floor as Disco and VIP Disco games kick off. With the game presenter at the DJ booth, excitement awaits! A mini wheel spin with eight sectors, featuring four directions (up, down, left, and right), determines Mr. Funky's next move. The game keeps going until Mr. Funky slips off the dance floor.
The dance floor is packed with two types of squares, each offering multipliers:
Regular multipliers boost your overall score. For instance, combining a 2 and a 10 Regular multiplier leads to a total of 12x. In Disco, initial Regular multiplier squares range from +1 to +100, while in VIP Disco, they range from +1 to +500.
Floor multipliers double the value of five random Regular multiplier squares. For example, a 2x multiplier becomes 4x, and a 5x multiplier becomes 10x.
Whenever Mr. Funky lands on a square and collects a Floor or Regular multiplier, the square becomes empty for two consecutive moves. It then resets to the same type and value as when Mr. Funky began his dance. Stepping on an empty square has no effect in the bonus game.
If a Bonus game segment multiplier was applied during the spin, each regular multiplier gets multiplied by it before Mr. Funky starts grooving.
This bonus game has a maximum multiplier of 10,000x. Once players reach this peak multiplier, the game concludes with a big celebration.
Payouts
Bet Spot
Payout
1
1–50:1
Letter (P, L, A, Y, F, U, N, K, T, I, M, or E)
25–1250:1
Bar bonus
Up to $ 500,000
Stayin' Alive bonus
Disco bonus
VIP Disco bonus
There is a maximum limit on the payout for all your winnings in a game round. For more information, please refer to the Bet Limit table.
Kindly be aware that any malfunction during the game round will void the round and any potential payouts.
Return to Player
Based on the Number 1 bet, the optimal theoretical Return to Player (RTP) is 95.99%. Please refer to the individual RTP for each bet below, excluding the maximum payout cap.
Note: The RTP values provided are without the maximum payout cap applied.
| Bet | RTP |
| --- | --- |
| 1 | 95.99% |
| Letter | 95.49% |
| Bar bonus | 95.98% |
| Stayin' Alive bonus | 95.49% |
| Disco bonus | 95.51% |
| VIP Disco bonus | 95.38% |
Although players may achieve a win that exceeds the maximum payout, their actual winnings will be capped accordingly. When betting the maximum, the following Return to Player (RTP) percentages apply: Letter bet 94.96%, Bar bet 95.40%, Stayin' Alive bet 94.85%, Disco bet 95.20%, and VIP Disco bet 94.81%.
Please note that the RTP values mentioned above are specific to players who bet the maximum amount.