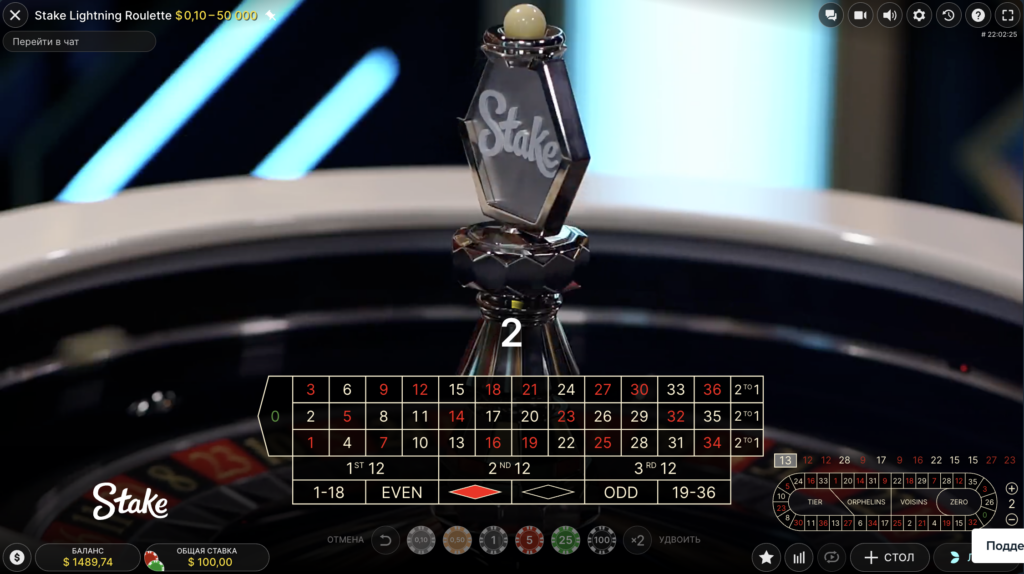 Lightning Roulette is an exciting variation of traditional roulette that was introduced by Evolution Gaming. Lightning Roulette's RTP is approximately 97.10%. It is played in the same way as standard European Roulette, but features an added element of surprise where drawn numbers are multiplied by a random multiplier of up to 500x. This means that players have the chance to win big cash prizes even with small stakes. The multiplier can activate randomly on any spin and can be applied to one or more winning bets. The multiplier can range from 50x to 500x, and is determined by a random number generator.
Lightning Roulette Rules
Lightning Roulette rules are similar to European Roulette, but with some notable differences.
The game table includes 37 numbers, from 0 to 36.
Players place their bets before the start of the round.
After bets are placed, up to five numbers are randomly chosen to receive a prize multiplier of 50x, 100x, 200x, 300x, 400x or 500x.
The multiplier only applies to straight bets (bets on a single number).
The wheel is spun and the ball is thrown.
If the ball lands on a straight number with a multiplier, players who bet on that number receive the prize multiplied by the indicated amount.
If the ball lands on a number with no multiplier, bets are paid as normal, with no multiplication.
If the ball lands on 0, all bets lose except bets placed directly on 0.
Roulette is operated by a live dealer.
Strategies in Lightning Roulette
There is no proven strategy that guarantees wins in this game, but here are some tips that can help:
Know the rules of the game: Before you start playing, make sure you understand how the multipliers and betting options work. This will help you make informed decisions about where to place your chips.
Managing your bankroll: As with any casino game, it is important to carefully manage your bankroll. Set a budget and don't go over it, even if you're having a good run of luck.
Consider outside bets: Outside bets such as red/black and even/odd have a winning probability of almost 50%, which means they are a safer option. However, the winnings are lower than with inside bets.
Watch out for multipliers: Inside bets, which include betting on specific numbers, have a higher winning potential than outside bets. If you can hit a number with a multiplier, you can get big wins. However, keep in mind that not all numbers have multipliers, so be careful when placing your chips.
Don't rely too heavily on betting systems: There are many betting systems that claim to guarantee a win in Lightning Roulette, such as the Martingale betting system. However, no betting system can guarantee a win and some can make you lose even more money. It's better to trust your luck and follow your own betting strategies.
The betting strategy in Lightning Roulette can vary according to each player's playing style. Some of the more common strategies include betting on single numbers with higher odds of hitting, betting on adjacent numbers like a Fibonacci sequence, or betting on repeating numbers that appear frequently.
While there is no guaranteed strategy for winning at Lightning Roulette, there are some tips that can help to increase your chances of winning. One of these is betting on specific numbers instead of more generic bets such as red or black. Another tip is to carefully manage your bankroll and set clear limits to avoid excessive losses.